Case Study: Trailblazing NLBM Lawyer and Mom Launched Second Career at the Same Time as Her NLBM Journey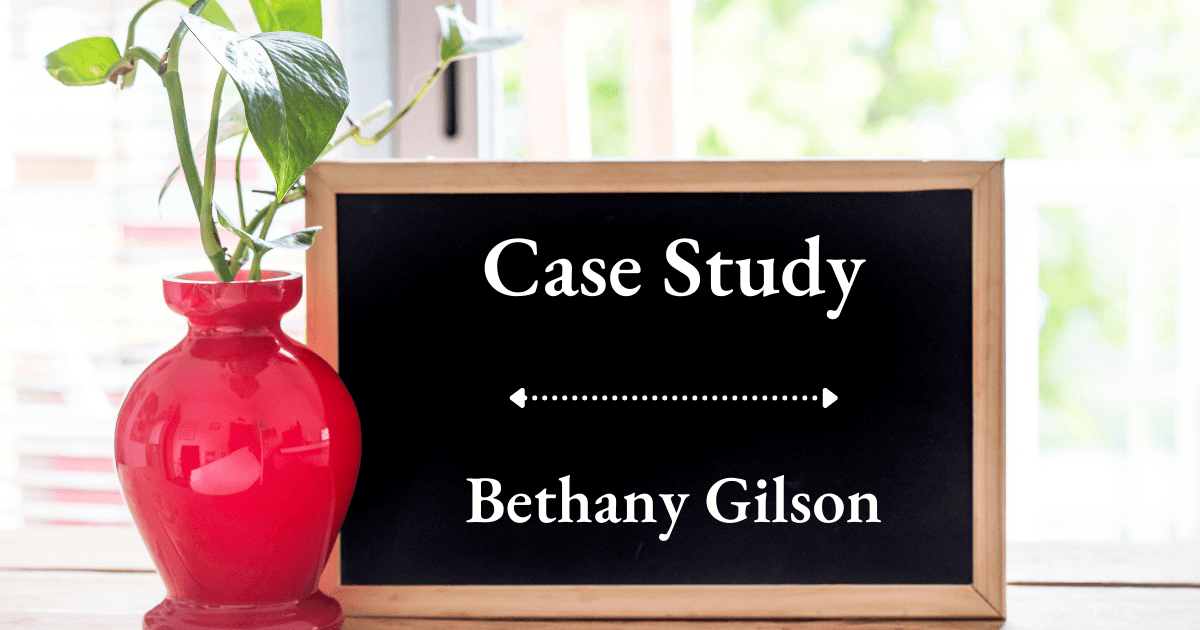 Second Career as Lawyer Provides First Look at New Law Business Model

Starting Sooner Rather Than Later With NLBM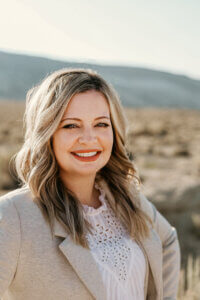 A New Law Business Model member since 2019, Bethany was embarking upon her second career as a lawyer when she got her first look at NLBM. She discovered the program when she was still in law school, contemplating the type of law she wanted to practice when she graduated.
Having worked in the healthcare technology industry for eight years before law school, she knew she enjoyed working in healthcare and, more than that, she liked helping people.
Estate Planning law has more than a few tie-ins with the healthcare industry, and so that topic really resonated with Bethany when she attended an NLBM Masterclass. As she tells it, "I listened to Ali on a webinar that was for the Young Lawyers Division of the ABA. That's when I heard her talk about the practice model, and it really appealed to me because I liked Estate Planning, and this was a more practical and more heart-centered approach to planning." Energized by what she learned about NLBM, she felt owning her own law firm would be a natural transition, but she needed a plan, complete with process and support. Now she knew NLBM could help her make that happen.
A natural pivot in her life occurred when she remarried and prepared for a move from a larger city—Salt Lake City, Utah—to Rock Springs, Wyoming, a very small community.
She wanted to create a life she felt was congruent with her values, where her family could settle in, and where they could build a life. This strengthened her belief that the New Law Business Model would be ideal for building her law practice.
Being a thorough lawyer, Bethany continued researching NLBM, staying connected by following social media pages and listening to more webinars. Only a short time passed when she decided to reach out to NLBM with state-specific questions related to her future law practice. Because she was uncertain where she would be practicing law, she wanted to know more about starting a solo practice in a different state than where she currently resided.
Not only did she get all of her questions answered, but she also learned how she could access more information about the ins and outs of state laws. It was also at about this time she read Ali's book, Wear Clean Underwear, where she learned even more about the program. She had only gone down the NLBM path a short distance, but she was already finding invaluable resources at her disposal, enabling her to move forward with confidence toward her goals.
Both the geographic move and the career move took quite a bit of planning, but the day finally arrived when everything was aligned. Bethany passed the bar exam, enrolled in the NLBM program, and was ready to commit fully to the program, and to her new life in Wyoming.
She felt some trepidation about launching her own law practice, but she knew she just needed to take the leap, confident in the knowledge that the NLBM team would be there to catch her should she need it.
She was further inspired by what she heard during one webinar in particular that talked about the fees that could be charged potentially for legal services. But first, Bethany had to find the time—and the money—to get her law practice off the ground.
Setting Up a Law Practice While Following Her Bliss
Bethany was committed to building her law practice the New Law Business Model way, but her initial concern was about money. To set up her business she needed to buy simple things like a printer and any number of day-to-day supplies, plus fund big-ticket items such as office space, so she could meet with her clients face-to-face. Fortunately, she received ongoing practical advice as part of her NLBM membership, and she notes one of the best sources of financial advice came from a webinar when Ali laid out specific financing options, including a 0% interest credit card.
While those first simple financing steps were crucial in even getting the means to open up shop, equally as important in successfully building her practice was the business ownership direction Bethany received from NLBM. She was encouraged to make essential mental shifts about things she didn't learn in law school, most notably, how to run a law practice like a business. The pragmatic guidance she received from NLBM allowed her to assess the best places to use her time, talent, and energy, and then allocate it accordingly. Now she wasn't just visualizing what her law practice would look like, but she was actually creating it.
In addition to information about finances and business ownership, Bethany received support and instruction on everything from drafting documents, to funding a trust, to receiving estate planning software recommendations. She started seeing how all of the pieces were coming together, and how to get from point A to point B, while practically applying the law. Bethany had set high goals for herself, and now her hard work and determination had led her to realize her biggest goal yet: Business owner.
In a matter of months, Bethany was rolling with her new practice, blazing the trail as one of the first NLBM Lawyers in the state of Wyoming.
She now holds the distinction of being the only NLBM lawyer practicing in her state, but she wants other lawyers to know there are so many clients who need your services, she would love to have you join her in serving them.
Bethany notes, "Every community in America needs somebody who they can point to and say, 'Hey, my stuff's taken care of, this attorney has copies, knows what my wishes are, and they're going to make sure that everything is squared away if anything happens to me.'" Everyone deserves that peace of mind.
The need has been so great for her legal services and expertise that her law practice has taken off faster than she envisioned. She goes on to explain, "There are other attorneys who dabble in Estate Planning, but there was nobody here holding themselves out as the Estate Planning attorney for the community. And I've never had an issue with finding clients or with the price I charge because people desperately need this education. They need this service."
No matter what geographic locale in which lawyers find themselves practicing law, the New Law Business Model has the flexibility to meet the needs of every community, and every lawyer, which is exactly what Bethany found.

Diving Right into the Practice of Law the NLBM Way
Because she's done her homework, and she knows exactly what she wanted, Bethany found the law practice model that fits her life, and she can adjust it accordingly. NLBM offers three practice choices—Solo Practice, Staffed Practice, 7-Figure Practice—and she chose to build her practice as a solo practitioner because that's what fits her current lifestyle as the mom of a young family.
"This is a really, really good fit for my lifestyle with balancing our family situation. And right now, for me, I am able to get my son from school at 3:00 p.m. each day, and so I don't work a full eight to five, which is really nice. And then I've got a baby too. So I take breaks at lunch to go to his daycare, to nurse him, and I'm doing the things I want to do right now for my family."
Her professional life as a lawyer and personal life as an involved mom are in harmony, with the bonus of her being afforded the opportunity to step into a leadership role in her community. She loves getting to know people, supporting the local booster clubs, and inspiring people to think about Estate Planning. Bethany provides free webinars she advertises through her local online newspaper, so she can actively educate her community. She doesn't want anyone to feel as though they don't have the information they need, they don't know what to expect, or they don't know what to do next. She's found a rewarding legal path allowing her to serve her clients at the highest level.
Bethany's level of career satisfaction is as high as the level of service she provides. She takes pride in knowing if the worst-case scenario happens, her clients know they're taken care of because she's right there as their local, trusted advisor who is ensuring they have their planning in place, in addition to the documents they need. Everything is in order, and that makes them feel supported in their long-term relationship with Bethany.

Pivoting During a Pandemic and Still Generating $10,000 Days
In the early months of her practice, Bethany blazed a trail as one of the only practicing NLBM lawyers in Wyoming. She was in the process of building the life and law practice that serves her values, and she was already realizing a strong revenue stream charging premium fees that earned her about $8,000-$15,000 monthly when COVID hit.
Suddenly Bethany had her son at the office with her because school was canceled, and she had to navigate a brand new schedule and, ultimately, a different way of doing business.
Once again, NLBM was right there supporting her by offering a program about how to conduct online webinars. She pivoted quickly to conducting webinars, which was financially beneficial to her practice.
Even though she transitioned to being completely virtual for the rest of 2020, she was able to consistently make $20,000 to $30,000 a month, while working 25 to 30 hours a week.
Her business has continued to grow, which she credits to staying consistent with her client outreach and continuing to invite people to her webinars. Her overarching goal remains to be of service in educating her community.
As Bethany says, "It takes work. It takes effort. It takes time to find the people you're marketing to and to build some skills around showing the value of your services, but it works. So that's the good news." Practicing law the NLBM way has given her the confidence to bring more and more clients into her practice, even during the time of a pandemic.
She also credits her coaches with providing the support she needs and wants. She feels that's one of the most valuable parts of her NLBM membership. (Read more about our NLBM Coaches in our NLBM Coaches Get Your Law Practice in Shape blog.)
Bethany said practicing law in a transformative way means, "NLBM can help you build a practice that you love, that fits your lifestyle. You can create your own economy, your own income, and your own measurements for what type of money you want to earn, and the choices are up to you." And she has created limitless potential for her income. Currently, although she's averaging about $50,000 a month in revenue, even when she wasn't aiming for this particular goal, she managed to log in a few $10,000 days.
Early in her vetting process, Bethany heard Ali talk about these $10,000 days, and she was extremely skeptical. In fact, she said, "my mind was kind of blown by that." But then over the months of working the program, setting her fee structures, and seeing clients, she could see it was actually very doable. The first $10,000 day she had, she messaged Ali and told her how she hadn't been entirely convinced this was possible, but she knew it was true now. First-hand. Bethany knows had she been practicing law in any other way, this kind of revenue wouldn't have been possible.

Living A Great Present With Big Plans For The Future
Following her passion to help people, Bethany is raising a family and building a law practice in a community that reflects those values. She's an Entrepreneurial Lawyer who truly enjoys owning and operating Legacy Law, because she knows she's making a huge difference in the lives of her clients. With NLBM, she found the right path leading to her biggest accomplishment, which she says is building her business for her family. First and foremost, she always wants to make life the absolute best she can for them. She experiences great joy in knowing her kids see her as being passionate about what she's doing. She's not making somebody else's dream come true, but making her own dreams come true, and that really is a gift.
Bethany Gilson has distinguished herself as an NLBM Estate Planning "go-to" lawyer in Wyoming, here for her clients now, and here for her clients in the future. She's got big plans for the future, planning to scale up to a 7-figure practice when her kids get a little older. And when she's ready. She knows whenever that is, she'll have the NLBM program there to guide her through that transition.
She was already talking to Ali, our Law Business Advisors, and other NLBM team members before she'd even graduated from law school, getting the answers she needed along the way on her path to discovering how she could transition from a law student to a successful law practice business owner.
New Law Business Model can help you with your transition from wherever you are in your legal career or life.
One of our Law Business Advisors will take the time to answer your questions, plus help you customize an action plan that will help you launch your NLBM journey.